By Janet Bowler
The lack of Swedish ancestry never stopped Gerry Swenson or her daughter-in-law Marci Swenson from actively promoting their husbands' and children's Swedish heritage in the Scandinavian community of Astoria, Oregon. Gerry's husband Bob Swenson's uncle Ragnar emigrated from Sweden (Örsjö in Småland) in 1910. Bob and Gerry are members of Astor Lodge #215 of VASA, and in 1987 their daughter Julie Ann represented the lodge as Miss Sweden in the annual Astoria Scandinavian Midsummer Festival. Participating in the festival made the Swedish heritage come alive. Gerry studied Swedish at the local community college where she taught math, and all of the family helped with the Swedish meatball dinner at the lodge.
 Marci with Ben and Audrey in Swedish costume
Marci Graves met Gerry and Bob's son Vance Swenson in 1998, and Vance took her to her first Midsummer Festival while the couple was still courting. Marci was immediately impressed with the food, the dancing, the variety of Scandinavian costumes being worn, the Court with princesses representing the Scandinavian countries, and the Scandinavian-themed vendors. Soon after her marriage, Marci joined the Astor Lodge herself and started helping with the annual meatball dinner. By the time son Ben and daughter Audrey were in second grade they were both seasoned festival-goers, ready to perform in authentic costume as members of the Nordic Viking Dancers of Astoria.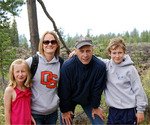 Marci, Vance and kids
In 2012 Audrey was Junior Miss Sweden, Ben served as court crown bearer, and Marci served as Junior Court Chaperone. That year's festival was intense and personal.
Ben has already been inducted into VASA Lodge. He and his sister attend Trollbacken Swedish Language and Culture Camp in Corbett, Oregon, every August.
The Astoria Scandinavian Midsummer Festival has been declared an Oregon Heritage Tradition. The 51st annual festival will take place on June 15 – 17, 2018. Detailed information is available at www.astoriascanfest.org. Look for the Swensons if you attend!
(Cover: 2012 Astoria Scan Fest Court with Marci at left, Ben and Audrey center front 2nd and 3rd from right.)