The Astoria Scandinavian Midsummer Festival Association is proud to offer scholarships to support youth that keep our Scandinavian heritage alive. At least one $1,000 scholarship will be awarded every year to a graduating high school senior. If funding allows, additional scholarships or larger amounts may be awarded. Winners are announced at their high school awards ceremony as well as at the festival Queen Coronation, on Friday, June 19, 2020.
---
Download 2020 Application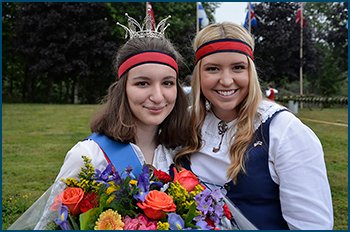 ---
Applicant Requirements
The ASMFA Scholarship will be awarded to a graduating senior who meets the following requirements:
Has been involved in the Astoria Scandinavian Midsummer Festival as a participant or attendee
Is a high school graduating senior
Has a minimum grade point of 3.00
Will use the scholarship for post-secondary higher education at an accredited institution
Will use the scholarship in the next academic year and be a full-time student
Application Details
The completed application should include, but is not limited to:
Student's personal letter of introduction and statement of interest in the scholarship
Completed scholarship application form (on the next page)
High school transcript (please black out the social security number and any immunization information)
Letter of reference from a community leader, respected friend or mentor
Mail completed applications to:
ASMFA
PO Box 34, Astoria, OR 97103
In 2020, four graduating seniors from local high schools who have been active in the Scandinavian community received $1,000 scholarships from the Astoria Scandinavian Midsummer Festival Association. Isabella Morrill, Kaisa Liljenwall, and Mara Dowaliby from Warrenton High School and Leo Mathews from Astoria High School received the scholarships to assist with their higher education plans. Isabella plans to study music composition at Western Oregon University. Kaisa plans to study biomedical engineering at the University of Southern California. Both Mara and Leo plan to attend Oregon State University. Mara will study to become a speech therapist and Leo will study engineering.
---