The Astoria Scandinavian Midsummer Festival Association presents the annual Sankta Lucia Festival of Lights at 7 PM on Friday, November 29th, at the Astoria High School Auditorium and Commons. In the Nordic countries, Lucia is traditionally celebrated on December 13th, the shortest day of the year in older calendars. Lucia was honored with sainthood for carrying food and drink to the hungry in Sweden during a period of famine. On the North Coast, this yearly tradition is celebrated the day after Thanksgiving as a family-friendly event to dispel the dark and cold of winter and to focus the light on the Christmas Season.
Santa Lucia Festival 2018
Photo by Scott Docherty / redhare.com
The legend of Sankta Lucia will be read as the Sankta Lucia Bride and her attendants enter the auditorium. Isabel Talley, Miss Denmark 2019, will be the Lucia bridge and the attendants are the other members of the 2019 court. The court members wear white robes and the Lucia Bride wears a red sash and a crown of candles. The Star Boys wear robes and pointed hats and carry stars on sticks. ChrisLynn Taylor will sing the Lucia songs and lead singing of holiday carols. The Viking Nordic Scandia Dancers will perform several Scandinavian folk dances. The 2020 Scandinavian Midsummer Festival Court will be introduced at the conclusion of the ceremony.
Afterward the Lucia ceremony, Astoria's new accordion band The Polka Dots will play music for dancing around the Christmas Tree. The Lower Columbia Danish Society will serve delicious Scandinavian treats.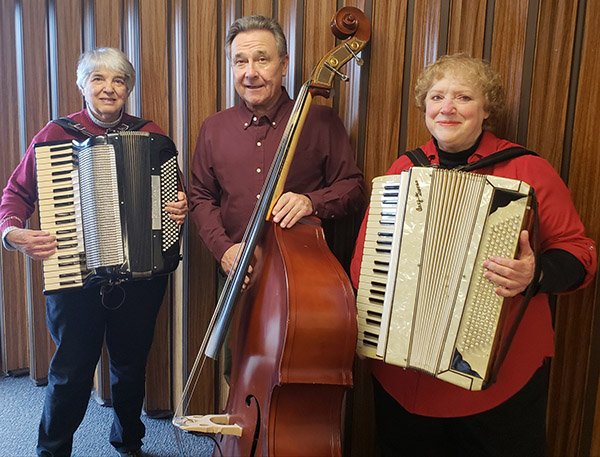 The Polka Dots
The Sanka Lucia Festival is open to the public and it is not necessary to be Scandinavian to enjoy this beautiful Scandinavian tradition that is sure to bring warmth and create happy memories during the holiday season. Admission is $1 per person and $5 per family and supports scholarships to qualifying high school seniors throughout Clatsop County.
Santa Lucia Festival 2018
Photo by Scott Docherty / redhare.com