---
1. Finnish Brotherhood Auxiliary
2. Lower Columbia Danish Society
3. Astor Lodge #215
4. Bohrer's Original
5. Baskets from OZ
6. Scandinavian & Rustic Design
7. Finnware
8. Handcrafted by Carl
9. Loki Knives, LLC
10. Finnware II
11. Hurricane Hair Wraps
12. The Nordic Home Store, LLC
13. Sea Shells Embroidery
14. Nomadic Artistry
15. Leaffilter North, LLC
16. Scandinavian Design Gift Wrap
17. Ariel's Food & Gifts
18. Papercut
19. Decorative Painting
20. Nordiskal
21. Folk Heart Designs
22. David Brothers Metal Art
23. Steve & Audrey Ullakko
24. Scandinavian Workshop
25. Folk Art of Norway
26. Sons of Norway
27. Astoria Nordic Heritage Park
28. RAFFLE BOOTH
29. INFORMATION BOOTH
30. Krumkake &Tarts
31. Judy's Painted Treasures
32. The Bread Lady
33. Norskwear (ICE-AME)
34. Birgit Moenig Designs
35. [open]
36. Rustic Linen
37. Shoalwater Pottery
38. Astor Street Opry Company
39. Ponytail Country
40. Chimnik
41. Darkmoon Faire
42. French Cat Studio
43. Julie Newby
44. Gypsy Camp Creations
45.

INFORMATION BOOTH

46. RAFFLE BOOTH
47. The Mouse Factory
48. The Knitting Mills
49. Daughters of Norway
50. Ronni Harris
51. Tistel Swedish Design
52. Pino-Kee-O's
53. Secret Dragon
54. Nordic Trader
55. Simplistic Design
56. Rolling River Spirits
57. The Scandinavian Cafe
 58. Astoria Kiwanis
59. Cafe de la Rue
60. Vintage Scandinavian
61. Secret Cupboard Creations
62. First Lutheran Church of Astoria
63. The Twisted Gem
64. DS Johnson Enterprises
65. Stephen McIntyre Apparel
66. Landet Studio
67. Renewal by Anderson
68. Summer's Flower Cotton Candy (Outdoors)
69. Viking Nordic Dance Group (Exhibit Hall)
The Astoria Scandinavian Midsummer Festival Association (ASMFA) is in the process of planning our 2019 festival this year. Festival dates are: June 21, 22, & 23, 2019.
Completed applications and payment are due no later than April 16th, 2019. Your application will not be accepted, or may be returned if it is not complete, or if full payment has not been received. You can use the online form below, but your payment still needs to be mailed in by April 16, 2019 to be considered.
Please send your payment made out to ASMFA, and send to:
ASMFA
Attn: Booth Applications
PO Box 34
Astoria, OR 97103
---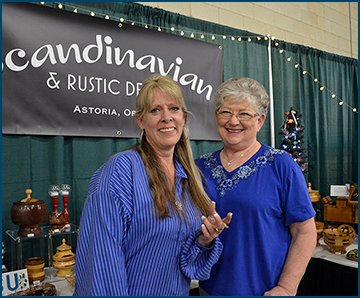 ---
Please Note: We require that all of our vendors and entertainers reflect the style and culture of Scandinavian heritage in their products, food, and music.
FESTIVAL LOCATION:
Clatsop County Fairgrounds,
92927 Walluski Rd., Astoria, OR. 97103
BOOTH REQUIREMENTS:
Our festival makes every effort to offer as much authentic Scandinavian culture as possible. We encourage vendors to dress in Scandinavian attire and to decorate their booths with Scandinavian décor, if possible. Booths representing handmade, quality items are given priority. We accept craft and informational booths and can accommodate both indoor and outdoor vendors. We recommend that outdoor booths be self-contained due to unpredictable weather and no night security. Electricity is limited for outdoor booths and will be provided on a first come, first serve basis.
BOOTH DECRIPTION:
Booths are divided by white, wood partitions that are partially decorated with cedar and birch.
Vendors may hang décor and other items on the partitions, but all staples, tape, and décor must be removed by vendor at the end of the festival.
Green curtains hang behind each booth.
Bring your own: staple guns, pliers, extension cords, and other supplies you may need to set-up/tear-down your booth.
Included with your Booth fee is:
- Four (4) Admission Wristbands (if additional wristbands are needed, they may be purchased for the regular admission price at the festival)
- One (1) 6-Ft Table
-One (1) Weekend Parking Pass            
The above will be provided to you upon Check-In at the festival. All booth vendors/volunteers MUST wear an Admittance Wristband while at the festival.
Booth sizes available:
- Informational/Non-Profit booth size: 8 x 8
- Minimum booth size: 10 x 10
- Maximum booth size: 10 x 30
Corner booths available for additional fee ($75.00)
INFORMATIONAL BOOTHS ONLY:
Non-Profit organizations (distributing information only) may request a booth at no cost.
Informational booths may not sell anything.
Information must be related to Scandinavia and/or Northwest history/area
Information booths will be placed where space is available and will include one 8-ft table
Electricity available if needed (see Electricity Fees on Application page)
BOOTH SET-UP / CHECK-IN and CHECK-OUT / *HOURS OF OPERATION:
Thursday: 2:00pm – 6:00pm  SET-UP & CHECK-IN
Friday: 9:00am – 1:30pm SET-UP & CHECK-IN
Friday*: 2:00pm – 6:30pm
Saturday*:  with Special Event:  9:00am – 6:30pm (see "Saturday" explanation below)
Saturday*:  without Special Event: 9:00am – 7:00pm (see "Saturday" explanation below)
Sunday*: 9:00am – 4:00pm
Sunday: 4:00pm – 6:00pm TEAR-DOWN & CHECK-OUT
ASMFA does not contract with a security company. Each vendor is responsible to secure their own items during the event. (Please see "Saturday" below for an exception to this rule.)
Booth Set-Up is allowed only during the above designated times, unless special arrangements have been agreed upon with the booth committee.
Booth space is NOT to exceed requested booth size – placing racks/stands, etc. beyond the measurements of your booth will not be permitted.
Friday - Doors to the Arena (location of indoor booths) will be locked after booth closing times.
Saturday – the closing time for booths will be dependent on if there is a "Special Event" scheduled for Saturday evening in the Arena.  If there is a Special Event, booths and the arena will close promptly at 6:30pm. Doors will reopen for the Special Event at approximately 6:45pm. The Festival Association will have professional Security Service to provide security through the duration of the event. Once the event is over and the arena has been cleared-out, the area will be locked. If there is not a Special Event taking place Saturday evening, booths will stay open until 7:00pm.  Please see www.AstoriaScanFest.com for more information.
Saturday and Sunday – Doors to the Arena will be opened at approximately 8:00am for vendors to get ready for the day.
Note: Booths may NOT be dismantled prior to 4:00pm on Sunday. If you sell out of your product(s), please place a sign in your booth that simply says "SOLD OUT".
Booth placement will be finalized by approximately, May 1st, 2019, after which a confirmation letter with final details will be sent. YOUR CONFIRMATION LETTER IS YOUR BOOTH ACCEPTANCE LETTER.
If you have any questions, please feel free to contact the booth committee. (Email: scanfestbooths@gmail.com)
VENDOR RESPONSIBILITIES:
Food Booths – please check with the Health Dept for food handling requirements.
Each booth MUST have a person with a valid food handler's permit occupying the booth at all times. (To obtain a permit contact your local Health Dept or go to www.orefoundation.org)
CANCELLATIONS:
You will receive a FULL REFUND, if your cancellation is received by June 1st, 2019.
If your cancellation is received after June 1st, 2019, you will receive a refund for HALF the cost of your total booth fees (including electrical fees).
ELECTRICITY:
List ALL electrical needs (appliances, lights, calculators, etc.)
List the WATTAGE of each appliance, this information MUST be included with your application. (see Appl. Pg 2)
Electricity is provided on a first come/first serve basis.
RV PARKING / CAMPING:
Overnight RV parking and camping is available to vendors. If interested, please check "yes" on the application under RV Parking and Camping. (A Reservation Form will be mailed to you with additional information, including fees.)
To apply online to become a vendor at this year's Astoria Scandinavian Midsummer Festival, please completely fill out the following form. Then, send your check in for the total amount due by April 16. Your online application will not be considered until we receive payment in full.
Please send your payment made out to ASMFA, and send to:
ASMFA
Attn: Booth Applications
PO Box 34
Astoria, OR 97103
Please Note: We require that all of our vendors and entertainers reflect the style and culture of Scandinavian heritage in their products, food, and music.
---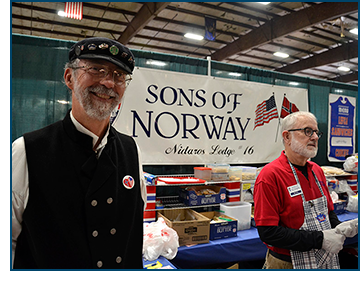 ---