---
SISU BREAKFAST
served by Scandinavian Cafe of Vancouver WA
7-11:00 A.M., Exhibit Hall
Pannukakku (Finnish pancake), Ham, Nordic Sausage, Breakfast Potatoes, Fresh Fruit, Scandinavian Cheese Selection, Fresh Pastry, Breads and Crisps, Water/OJ/Coffee. $10.00 per person.
BOOTHS OPEN
9 A.M.-4:00 P.M., Arena
Visit the midsummer vendors to find specialty Scandinavian items and handcrafted treasures.  Many booths offer Scandinavian food items for your dining and snacking pleasure.
More Info
RAFFLE TICKETS
2-3:00 P.M.
Be sure to buy raffle tickets for the $1,000 cash prize and many other fine prizes donated by the Astoria Scandinavian Midsummer Festival Association and festival vendors.
More Info
ICELANDIC HORSES - LARRY & JACKIE TAYLOR
9 A.M.-2 P.M., Horse Arena
Jackie and Larry Taylor of Yelm, Washington will show their Icelandic horses in the horse arena next to the Midsummer Pole. Icelandic horses are a pure breed that developed in Iceland. The horses are mostly pony-sized but are still called horses.  Jackie and Larry will provide demonstrations of these attractive animals and let you see them up close.
ENTERTAINMENT
10:30 A.M.-4:00 P.M., Arena
There will be live Scandinavian themed entertainment throughout most of the day.  Pick up a festival program at the admission table or view one of the posted schedule to find your favorite band, singer, or dance troupe.
More Info
EMPIRE OF CHIVALRY AND STEEL VIKING ENCAMPMENT
10-4:00 P.M., Outdoors
The Empire of Chivalry and Steel will hold an open house in their Viking encampment outdoors south of the Arena.  Costumed reenactors will demonstrate crafts, tournaments, armor making, and combat arts from the culture of the Middle Ages.
BARNEFEST
11-2:30 P.M., Arena
Young festival attendees can participate in children's activities in the Barnefest area.  This area is staffed by volunteers from Tongue Point Job Corps Center, the Nordic Viking Dancers, and by parents.  Children under 12 need to be accompanied by an adult.
NON-DENOMINATIONAL CHURCH SERVICE
11:00 A.M., Dairy Barn Chapel
Join us for a non-denominational church service. Pastor and special music will be announced later.
SCANDINAVIAN SPELLING BEE
1:45 PM, EXHIBIT HALL
Scandinavian lodges have submitted a list of words they think everyone should know. There will be a brief pencil and paper quiz to determine semi-finalists who will stand up and face the quizzes for an oral spell down.  Prizes will be awarded.
ÆBLESKIVER EATING CONTEST
2:45  P.M., Exhibit Hall
How many Æbleskiver (Danish donuts) can you eat in five minutes with your hands behind your back? The champion will win an Æbleskiver's pan and recipe. Participants must be in good health and sign a waiver. 18 or older.
BARNEFEST RAFFLE
3:30 PM, Exhibit Hall
Who will win the great prizes donated by community members and businesses to support the children's activity area?
FESTIVAL RAFFLE
3:45, Exhibit Hall
Who will win the raffle grand prize of $1,000 and the other beautiful prizes donated by the Scandinavian Festival Association and lodges and businesses?  Did you buy your tickets?  Join us on Sunday to learn who the winners are.  You need not be present to win.
FLAG CEREMONY AND FESTIVAL CLOSING
4:00 P.M., Exhibit Hall
The 2019 Scandinavian Midsummer Festival ends as the national songs of Denmark, Finland, Iceland, Norway and Sweden are sung one more time and the flags leave the hall.  Say good-bye to your friends and family and make plans to join us again in 2020 for our 53nd anniversary festival.
See you again on June 19, 20, 21, 2020!
Friday!
Friday, the festival kicks off with vendors, food and live entertainment. Friday's major evening events include Queen's Coronation, a Bonfire with Hex burning, and a public dance.

Saturday!
Saturday continues with the Midnight Sun Breakfast, Troll Run/Walk, OpTog parade, Midsummer Pole, Beer Garden, Viking Encampment, folk dress parade, children's games, public dance, & more.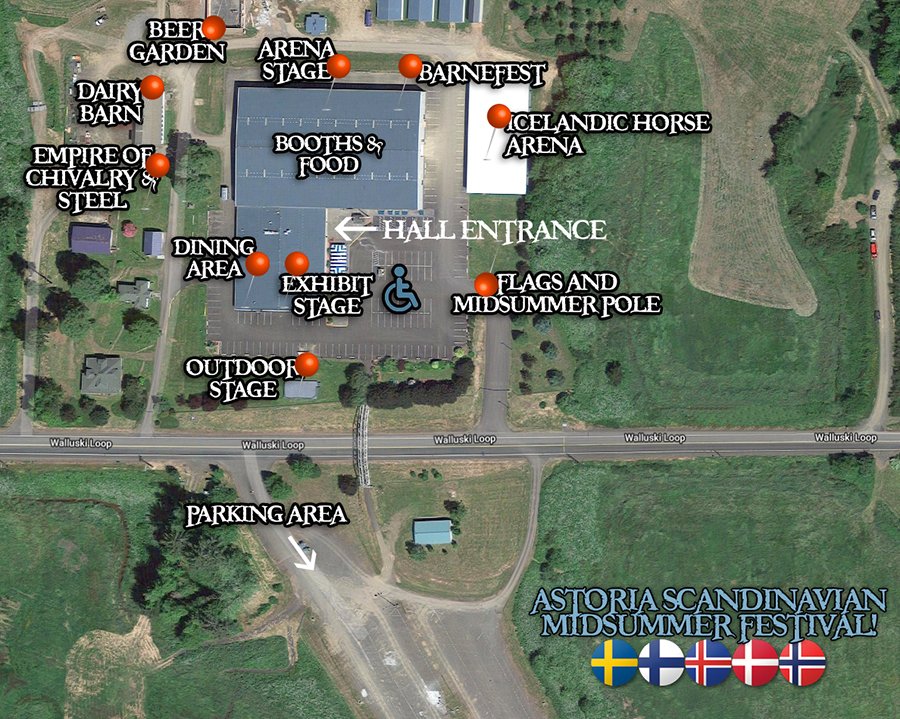 ---
3-day Button - Adult $8
3-day Button - Children (6-12 yrs.) $3
(5 and under free)
---

---
Clatsop County Fairgrounds
$2 per day or
$5 weekend pass
---
No Pets Allowed
Only verifiable registered service animals will be permitted