---
MIDNIGHT SUN BREAKFAST
served by Scandinavian Café of Vancouver, WA
7-11:00 A.M., Exhibit Hall
Buffet: Norwegian Jarlsberg egg cake, Finnish Pyttipannu (Scandinavian pan-fried scramble of potato, onions, sausage & egg), Swedish pancakes with whipped cream and strawberries, Norwegian Rommegrot (sour cream porridge/pudding with cinnamon and sugar), Lefse (fresh off the griddle), Scandinavian cheese, Shrimp and salmon lox, Fresh assorted breads, Fruit, Fresh baked Danish pastry, Coffee, OJ, water. $12.00 (Kids 6 and under: $5)
RUNNING OF THE TROLLS
Primary sponsor:  Columbia Memorial Hospital
8:30 A.M., Walluski area
Join us for a walk or run in the beautiful Walluski countryside.  Proceeds from the race will benefit the Scandinavian Midsummer Festival Association Scholarship Fund.  Registration is available online or at the festival.  Check-in is from 7-8 A.M. on Saturday in the Main Entry Hall.
More Info
BOOTHS
9:00 A.M.-6:30 P.M., Arena
Visit the midsummer vendors to find specialty Scandinavian items and handcrafted treasures.  Many booths offer Scandinavian food items for your dining and snacking pleasure.
More Info
RAFFLE TICKETS
2-7:00 P.M.
Be sure to buy raffle tickets for the $1,000 cash prize and many other fine prizes donated by the Astoria Scandinavian Midsummer Festival Association and festival vendors.
More Info
ICELANDIC HORSES - LARRY & JACKIE TAYLOR
9 A.M.-4 P.M., Horse Arena
Jackie and Larry Taylor of Yelm, Washington will show their Icelandic horses in the horse arena next to the Midsummer Pole. Icelandic horses are a pure breed that developed in Iceland. The horses are mostly pony-sized but are still called horses.  Jackie and Larry will provide demonstrations of these attractive animals and let you see them up close.
ENTERTAINMENT
10 A.M.-6:15  P.M., Arena
12:45 P.M.-6 P.M., Exhibit Hall
12 noon -6 P.M., Beer Garden
There will be live Scandinavian themed entertainment and dancing on three stages throughout most of the day.  Pick up a festival program at the admission table or view one of the posted schedule to find your favorite band, singer, or dance troupe.
More Info
EMPIRE OF CHIVALRY AND STEEL VIKING ENCAMPMENT
10–6:00 P.M., Outdoors
The Empire of Chivalry and Steel will hold an open house in their Viking encampment outdoors south of the Arena.  Costumed reenactors will demonstrate crafts, tournaments, armor making, and combat arts from the culture of the Middle Ages.
BEER GARDEN
11 A.M. - 11 P.M.
Astoria Brewing Company will present a selection of award-winning handcrafted microbrews and a limited menu.  The Astor Street Opry will present its standing-room only show of olio acts from "Shanghaied in Astoria" at 1, 3, and 5 PM. The Squeezer and Geezer and friends will entertain at 2 and 4 PM.
BARNEFEST
11 A.M. – 5:00 P.M., Arena
Young festival attendees can participate in children's activities in the Barnefest area. This area is staffed by volunteers from Tongue Point Job Corps Center, the Nordic Viking Dancers, and by parents. Children under 12 need to be accompanied by an adult. There are inexpensive games (fishing, wheel spin, plinko, golf and bean bag toss), face painting and a raffle. At 1:30 P.M. and 3:30 P.M. a skit will be presented titled Sister Bear by Jane Yolen.
OP TOG - FESTIVAL PARADE
11:30 A.M., festival grounds
Miss Scandinavia and her court, costumed dancers and entertainers,  representatives from the Scandinavian lodges, and family groups will assemble in the dining area of the Exhibit Hall and then parade through the arena and festival grounds to the outdoor stage for the Flag Raising and Midsummer Pole ceremony.
FLAG RAISING
12:00 Noon, Outdoor Stage
Come and hear the national songs of Denmark, Finland, Iceland, Norway, and Sweden while Miss Scandinavia and her court assist in the pageantry of the raising of the flags of these Scandinavian countries. (In case of rain, flag raising will be moved to the Exhibit Hall.)
MIDSUMMER POLE RAISING
12:30 P.M (Approx.) Midsummer Pole
After Flag Raising, follow the Queen and her court to the Midsummer Pole to watch local men (and volunteers!) skillfully raise the Midsummer Pole.  The Polka Dots will play live music and Anna-Karin Lindberg Rednoske will provide the vocals. All are welcome to join in the dancing led by Eva Moore and demonstrated by Astoria's own Lisa Sundstrom.
TUG OF WAR
1 P.M., Outdoors by Midsummer Pole
Teams of eight will vie to be champion. Participants must be in good health and sign a waiver.
KUBB EXHIBITION AND TOURNAMENT
1:30-3:30 P.M., in front of the Midsummer Pole
Here's your chance to participate in a sport activity at the Midsummer Festival! Kubb is pronounced "koob" and is a yard game of Scandinavian origins which has been played for about 1,000 years. No prior skills are required.  All are welcome.

CHILDREN'S PLAY
2 Shows: 1:30 and 3:30 P.M., Barnefest Area
Sister Bear: A Norse Tale. Adapted by Jane Yolen from the story written by Peter Christen Asbjornsen and Jorgen Moe.Adapted by Katherine Lacaze, Director. Clatsop Children's Theater Company.
SWEDISH MEATBALL EATING CONTEST
3:30 P.M., Exhibit Hall
Yum! How many Swedish meatballs can you eat in five minutes with your hands behind your back? The champion will win a prize. Participants must be in good health and sign a waiver. 18 or older.
DANISH ÆBLESKIVER EATING CONTEST
3:45 P.M., Exhibit Hall
How many Æbleskiver (Danish donuts) can you eat in five minutes with your hands behind your back? The champion will win an Æbleskiver's pan and recipe. Participants must be in good health and sign a waiver. 18 or older.
NORDIC VIKING DANCERS REUNION
4-5 P.M., Exhibit Hall
Did you dance with the Nordic, Viking or Scandia groups in the past? Can you remember Dudlepska and Little Man in a Fix? If not, it doesn't matter. Come to the Dancers Reunion and socialize with your former dance partners. Kevin will call, in case you forgot.
PARADE OF NATIONAL FOLK WEAR
5:00 P.M., Exhibit Hall
Are you curious about the lovely costumes worn by representatives of the Scandinavian countries?  Come and see and hear them explained in a fashion show with live models.
VIKING DINNER
served by Scandinavian Café of Vancouver, WA
4-7:00 P.M., Exhibit Hall
Buffet: Danish Pork Roulade (Danish style pork roast rolled with apricots and prunes), Banke Kød (Danish Roast Beef in Bay Leaf Brown Gravy), Swedish Meatballs in Brown Cream Gravy, Medister Polse (Norwegian Pork Sausage), Braised Red Cabbage, Janneson's Temptation (a traditional Swedish casserole made of potatoes, onions, pickled sprats, bread crumbs and cream), Garden Salad, Danish Smørrebrød (Open-Faced Sandwiches), Shrimp and Herring Salad , Nordic Cheeses, Fresh Baked Bread and Crisps, Cream Filled Pastry Shells drizzled in Dark Chocolate, Cookies and Pastries, Soda, Coffee & Bottled Water. $16.00 (Kids 6 and under: $7)
SCANDINAVIAN BALL with SCANDINAVIAN COUNTRY
7-10 P.M., Exhibit Hall
Local favorite Coreen Bergholm will return with her band Scandinavian Country to provide music for dancing. Join the dancing or watch the dancers and listen to this great music.
More Info
Friday!
Friday, the festival kicks off with vendors, food and live entertainment. Friday's major evening events include Queen's Coronation, a Bonfire with Hex burning, and a public dance.
Sunday!
Sunday's activities include a Pannukakku Breakfast, non-denominational church service, shopping, food, and live entertainment. Festival concludes with the closing ceremonies.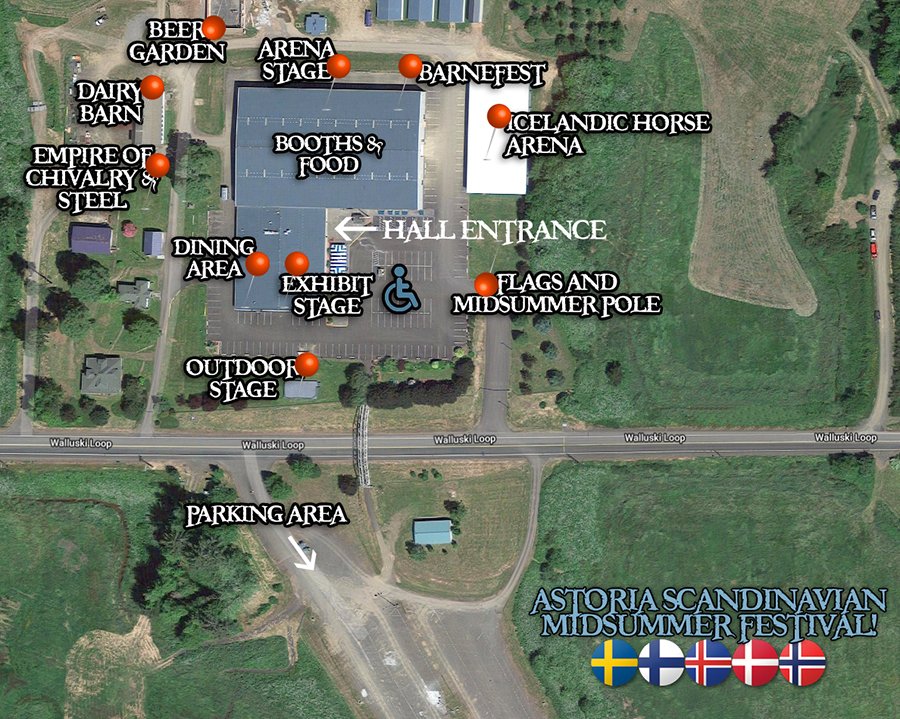 ---
3-day Button - Adult $8
3-day Button - Children (6-12 yrs.) $3
(5 and under free)
---

---
Clatsop County Fairgrounds
$2 per day or
$5 weekend pass
---
No Pets Allowed
Only verifiable registered service animals will be permitted