---
BOOTHS OPEN

2-6:30 P.M., Arena

Visit the midsummer vendors to find specialty Scandinavian items and handcrafted treasures.  Many booths offer Scandinavian food items for your dining and snacking pleasure.
More Info
RAFFLE TICKETS
2-6:30 P.M.
Be sure to buy raffle tickets for the $1,000 cash prize and many other fine prizes donated by the Astoria Scandinavian Midsummer Festival Association and festival vendors.
More Info
ICELANDIC HORSES - LARRY & JACKIE TAYLOR
2-6 P.M., Horse Arena
Jackie and Larry Taylor of Yelm, Washington will show their Icelandic horses in the horse arena next to the Midsummer Pole. Icelandic horses are a pure breed that developed in Iceland. The horses are mostly pony-sized but are still called horses.  Jackie and Larry will provide demonstrations of these attractive animals and let you see them up close.
ENTERTAINMENT

5-7:00 P.M., Arena Stage

The Harald Haugaard / Helene Blum Band from Denmark and Bjorn and Ole from Norway will perform their modern interpretation of traditional music from their homelands along with their own compositions and arrangements.
More Info
BEER GARDEN OPEN

3-11:00 P.M.

Astoria Brewing Company will present a selection of award-winning handcrafted microbrews and a limited menu.
BEEF POT ROAST DINNER
Hosted by Olney Grange

4:30 -7 P.M. or until supply runs out
Beef pot roast, baked potato, green beans, roll, salad, pie, beverage, $14; children under 11, $8.
QUEEN'S CORONATION

7:00 P.M., Arena

Princesses sponsored by the Danish Society, Finnish Brotherhood, Sons of Norway and VASA Swedish Lodge will speak about their Scandinavian heritage.  A panel of judges will select one to reign as Miss Scandinavia 2019.  Stay afterwards for the Torchlight Procession, Bonfire and family-friendly Queen's Family Ball with music from Scandinavian Country.
More Info
TORCHLIGHT PARADE TO BONFIRE AND HEX BURNING

8:00 P.M. approximately (following the Queen's coronation,) Parking Area
Scandia men with flaming torches will lead the newly crowned Miss Scandinavia and audience members to the bonfire to throw straw hexes into the flames.  This tradition symbolizes ridding oneself of bad luck for the year.
QUEEN'S FAMILY BALL
with Scandinavian Country

8-11 P.M., Exhibit Hall

Miss Scandinavia and her father or special partner will lead the first dance of the 2019 Midsummer Festival.  Join the dancing or watch the dancers and listen to great music.
Saturday!
Saturday continues with the Midnight Sun Breakfast, Troll Run/Walk, OpTog parade, Midsummer Pole, Beer Garden, Viking Encampment, folk dress parade, children's games, public dance, & more.
Sunday!
Sunday's activities include a Pannukakku Breakfast, non-denominational church service, shopping, food, and live entertainment. Festival concludes with the closing ceremonies.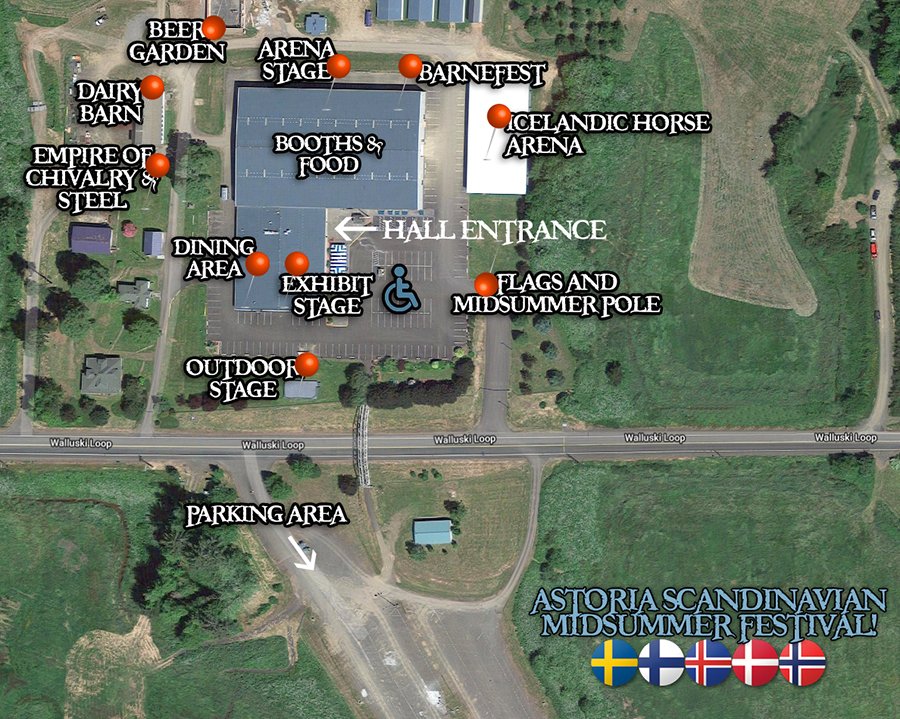 ---
3-day Button - Adult $8
3-day Button - Children (6-12 yrs.) $3
(5 and under free)
---

---
Clatsop County Fairgrounds
$2 per day or
$5 weekend pass
---
No Pets Allowed
Only verifiable registered service animals will be permitted